Adult Subscription Sites To Make Money Running an Adult Fan Page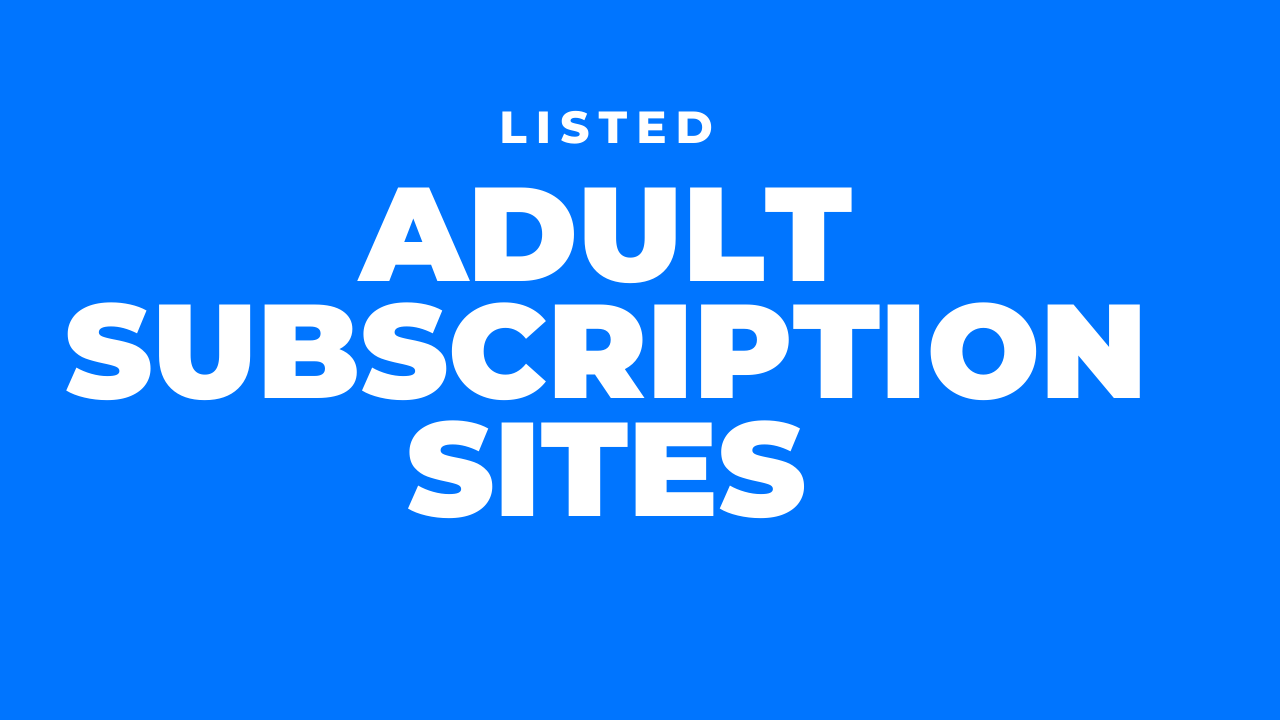 If you are an adult content creator looking for a website where you can start selling your content, then you are at the right place. Selling adult content online is very profitable, and many adult content creators are making good money selling their adult subscriptions. Your total earning from a content subscription website depends upon their business model. For instance, on Onlyfans, adult content creators primarily make money through monthly subscriptions. But on Manyvids, content creators primarily make money through pay-to-view content. Anyhow, you will learn about many platforms where you can make a fan page as an adult content creator and make money.
Cam models, pornstars, and sex workers know how much money can be earned through social media subscriptions and by selling adult content. The market is now big, and there are many platforms available for selling your porn online. It is hard for adult content creators to select the best platform where they can sell and monetize their content.
While selecting the best platform, the content creators consider some policies, and these include commission, features, safety, and privacy. Here in this article, you will know about the best platforms that offer the best payout rates and safety to their content creators.
Best platforms for creating adult fan pages:
The best platforms that you can consider for starting your career as an adult content creator are given below:
1. Cliqfans:
Cliqfans is a new platform for content creators where you can start a fan page where they only charge 15% commission for the first 3-months and after that, you will be charged 20% of the commission. Cliqfans is working hard to create an adult-friendly platform for creators and their fans.
Following are some of the things that you should know about Cliqfans:
Fastest payout option for creators. You can get paid in 2 days while on other platforms like Onlyfans or Fansly, you have to wait for 4 to 5 working days.
Cliqfans pay creators through PayPal. It is the safest and most reliable method in order to get paid. We are also adding more payout options for creators.
Cliqfans is making sure that the creators are getting discovered or their content gets more exposure, for this reason, we are working hard to bring more features to this platform.
Easy certification and getting started. The process of joining the platform and verification is very easy compared to other platforms like Onlyfans.
Cliqfans is only built for the adult community. A platform that you can trust.
Great customer support. We are available 24/7 for solving any problem you are facing with your content.
2. Onlyfans
Onlyfans is a content subscription platform where adult content creators make money through different features. The business model of Onlyfans mainly depends on subscriptions. But content creators also make money through other features, for instance, tips, PPV, live stream, and paid messages.
Size:
Onlyfans website is being visited by 160 million people every month. The website has 24 million registered users and 450,000 content creators.
Benefits of creating a fan page on Onlyfans:
A content creator can make money through different sources.
The platform is safe, and the support team is very active.
Onlyfans give 80% revenue to the content creator, and that is a great payout rate.
Fast and convenient payout methods.
Onlyfans offers the lowest payouts.
Onlyfans offers DMCA protection.
As a content creator, you can set prices and subscription charges on your own.
3. Fansly:
Fansly is a comparatively new platform, but it is getting popular because of the latest features it possesses. On Fansly, a content creator makes money by monthly subscriptions, PPV, live stream, and tips. The Fansly website is very user-friendly, and it is easy to use. An adult content creator can make Fansly its full-time career.
Benefits of creating a fan page on Fansly:
Fansly is a new website, and that means the competition is a bit low there.
The website is safe, and an adult content creator can safely make money by publishing adult content.
Fansly is an active supporter of sex workers' protection.
Fansly offers DMCA, which means if your content is stolen, then Fansly will assist you in taking down the stolen content.
Like Onlyfans, Fansly also offers 80% revenue to the content creators.
4. AVN stars:
AVN stars is also a new player in the adult content industry, but its parent company is the famous AVN awards. The website has a similar interface to Twitter. Fans on AVN stars can follow for free or by paying a subscription fee. It has more earning potential for adult content creators because of the popularity of AVN awards; adult content lovers prefer AVN stars. Content creators on AVN stars can also cross-sell their membership and content on other platforms, for instance, Snapchat.
Size:
During the pandemic, AVN stars witnessed a 35% growth in registrations. More than a million people visit the AVN stars website every month. The website is growing fastly, and it could beat other platforms in the future.
Benefits of creating a fan page on AVN stars:
AVN stars also offer 80% payout revenue to the content creators.
The most amazing thing about AVN stars is that they offer a 5% commission on every referral.
Price your content on your own.
It is also integrated with AVN Network that can help you in getting fame. You can get nominated for the awards.
The website is safe and well built. The user interface is easy-to-use and looks tremendous.
5. Loyalfans:
Loyalfans just started in April 2020, and they have already gone popular among a large community of adult content creators. Loyalfans has many features that you can think of. It was previously known as NexoCams.
Benefits of creating a fan page on Loyalfans:
It offers an 80% payout rate, plus it also offers a 5% commission on every referral.
The design of the website is slick, and it operates fast.
There are several ways for making money, for instance, video stores, clip sales, tips, subscriptions, and live streaming.
The competition is also less on the platform.
It also has some cool features that are good for privacy. One of the best features for maintaining privacy is geo-blocking.
Final remarks:
In present days selling adult content online is a very profitable business. You can create a fan page on many platforms in 2022. As an adult content creator, you have a lot of options available to start a successful fan page and create content with your fans who pay. Cliqfans is one of the best platforms for adult content creators to start making money and create a business out of their adult content for the long-term sustainability.
Want to get started on CLIQ?
Join over 10,000 creators on CLIQ today to build your fan own club! Monetize your fan base with 85% payout for the first 3 months!
Join Today